Bfxr – оригинальный генератор 8 битных звуков
3 Free 8 Bit Sound Generator Software For Windows 10
Here's a list of three 8 bit sound generator software for Windows 10. 8 bit music is music that can usually be found in old video games like Super Mario, and of course modern indie titles. That's where I got the idea for this article. I like music composed out of 8 bit sounds and almost always listen to it when working, to help with focus. These types of sounds are also frequently used in indie games, like I already mentioned. Applications from the list down below will help you generate 8 bit sounds to create 8 bit music and game effects of your own.
Bfxr is an advanced 8 bit sound generator software for Windows 10. This is an Adobe Air application, so you'll need to have Air installed in order to use it. It's also portable, which means that installation is not required in order to give it a spin. Bfxr has two great features. First there's the large database of built-in 8 bit sound presets that you can build upon when creating 8 bit sounds of your own.
Now note that this software is aimed at game developers. That's the reason why there are sounds like coin pickup, laser shoot, explosion, power up, hit, jump, select, etc. See the left sidebar for a full list of available side. Synths and a small mixer are located in the middle of the interface. Synth will allow you to additionally tweak sounds to make them your own. You can tweak things like depth, speed, frequencies, harmonics, etc. Randomizer button mixes up these settings in order to easily produce a unique 8 bit sound. Mixer lets you combine several sounds into more complex mixes, sort of like music tracks, only shorter. Multiple 8 bit sounds can be made at the same time. They can be exported as WAV files.
LabChirp
LabChirp is a more of a do-it-yourself type of 8 bit sound generator software for Windows 10 that's very small (less than 1M in size), and it's also portable. Unlike Bfxr, which has a decent library of 8 bit sound presets of its own, LabChirp focuses on creating new ones, from scratch.
This is achieved by adjusting frequency, volume and wave modulation, see image above. Up to 8 channels can be setup. Channels actually overlap each other so that more complex sounds can be created. If you don't have a lot of experience producing sounds/music this way, it will take some time to setup the sound just the way you want it. Alternatively you could just hit the "Randomizer" button and let LabChirp tweak sound settings for you at random. Length of the 8 bit sound is customizable, as is delay in playback. Hit the giant "Play" button to preview the sound that you've configured. Finished sounds can be exported using WAV format.
sfxr – free 8 bit sound generator software for Windows 10
sfxr is a more simplified predecessor to Bfxr. It is also portable, and less than 100kb in size (archive). It has a library of 7 built-in 8 bit sound presets that you can build on top of, or you can create new ones from scratch.
New sounds are created manually using the sliders in the middle of the interface. What these sliders do is they change the sound frequency, speed, decay, vibrato, high pass, low pass and several other sounds characteristics. There are a lot of settings to make a specific sound your own. Make sure to click on the "Play Sound" button from the right sidebar after doing tweaks to preview the new sound settings. Difference between Bfxr and sfxr is that Bfxr allows you to setup multiple sound effects at once. In sfxr only 1 8 bit sound per work session can be created and exported to WAV, which is the only supported file format for export. Sound mixer for mixing multiple sounds is also missing. What is available and will no doubt come in handy, is the "Randomize" button, which will randomly tweak settings in order to create a unique sound. It's simple and to the point.
Conclusion
Out of the 3 8 bit sound generator software for Windows 10, the two that caught my interest the most are Bfrx and LabChirp. Bfrx one is very advanced and I really like the fact that you can generate multiple custom 8 bit sounds at the same time. Another very useful features is the built-in mixer, where multiple 8 bit sounds cam be pieced together into a new sound. LabChirp on the other hand has a highly customizable approach to creating 8 bit sounds. Where almost everything is setup from scratch. sfxr is basically a lightweight version of Bfrx, but it can still come in handy if you're not a too demanding of a user. Let me know what you think, which 8 bit sound generator software is the best by leaving a comment in the comment section down bellow.
Bfxr – Elaborate remake of the popular game SFX generator sfxr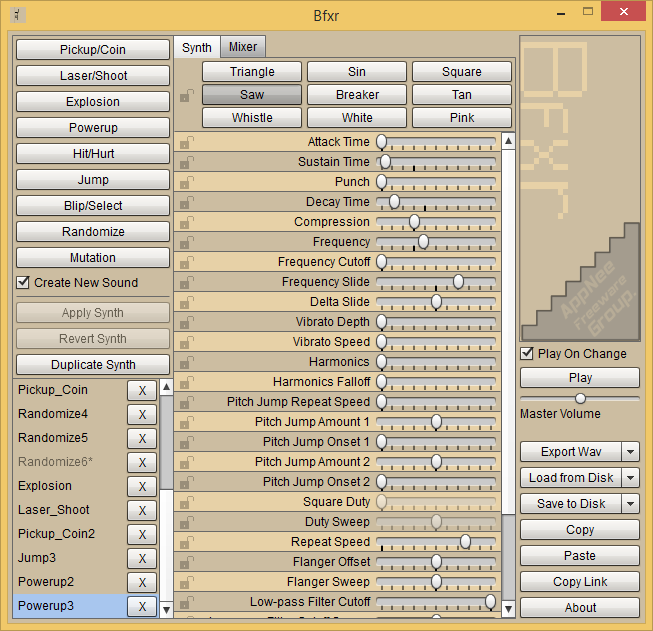 Sound is often an overlooked part in the process of making a game, but it can have a huge impact on the player experience. Sound can be direct recorded using either a microphone or connected instruments, but obviously using tools to create sound effects is much easier and more efficient. At the same time, having an excellent audio production tool in hand also plays a very important role in Game Jam competitions or game development processes.
Bfxr is a free and portable Flash + AIR based sound effects generator for Windows, Mac and Web platforms. It's actually a cross-platform remake (namely one of the ported versions) of the classic sfxr along with many more exciting features, made by Stephen Lavelle (Increpare) from Germany. On the basis of sfxr, Bfxr comes with lots of interesting and useful new features, as well as improved/enhanced functionalities.
Bfxr enables user to easily and quickly generate sound effects for game production, ring tone, background music. Besides, it also comes with sound mixing and editing capabilities, and allows user to fine-tune and overlay all selected sound effects (i.e.: put a variety of sounds together so as to create a sound mixing effect). In short, as a widely used sound effect generator, Bfxr is well suited for the production of game sounds with low fidelity and retro style, also works well with quick feedback and placeholder sound. If you are an indie game developer, then you will benefit a lot more than you expect from Bfxr.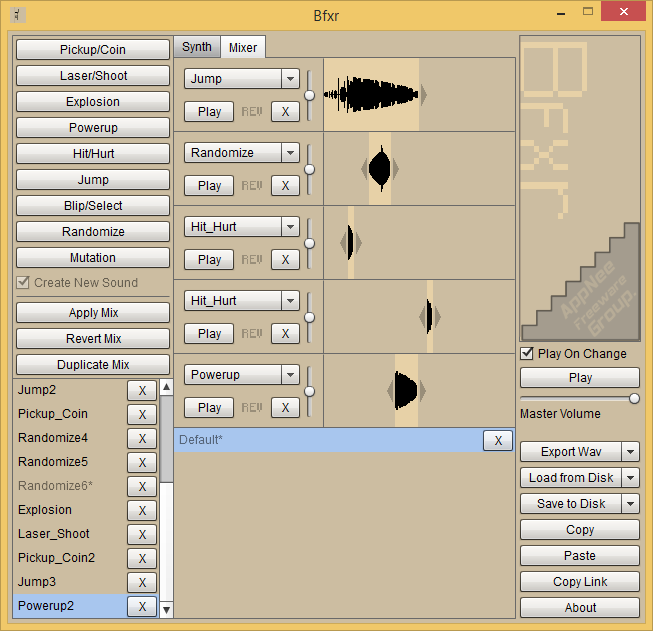 // Key Features //
5 new waveforms : triangle, breaker, tan, whistle, and pink noise.
3 new filters : compression, harmonics, and bitcrusher.
Ability to lock parameters during mutation/randomization.
Expanded pitch-jumping abilities – good for arpeggiation effects.
Visualisation
Mixer
Keeps your sounds and mixes in persistant lists.
Can reverse synths
Ability to link directly to sounds
If you click on the text beside one of the sliders, it moves the slider back to its default position.
If you right-click one of the locks, it locks/unlocks all parameters
you can clear out all your sound lists from by selecting "Clear All" from the Load dropdown menu
There's some handy info in the tooltips.
If you don't want to download Adobe AIR for the privilege of a standalone version, you can safely just download this webpage to your hard disk and run it locally.
You may find it gets slow or stutters sometimes. If you hit play a second time it should play just fine. A chief cause of slowness is use of the 'harmonics' parameter in the synth screen. It's tres beautiful, but be careful with it.
Running multiple copies at once is DANGEROUS, only the data from one of them will remain. So be careful about opening lots of links to sounds that people have made all at once. However, and this is the tip part: you can paste the URL in with the paste faculty as well (via the button, or ctrl+v).
The presets only traverse a small portion of the sonic range of this program. Try playing around with parmeters, layering them in the mixer, see what happens
If you like the sounds you've made with this, consider putting them into a game, eh? 'tis not hard nowadays to toss a game together.
// Download URLs //
| | | | |
| --- | --- | --- | --- |
| License | Version | Download | Size |
| Freeware | Latest | Win | Mac | n/a |
If some download link is missing, and you do need it, just please send an email (along with post link and missing link) to remind us to reupload the missing file for you. And, give us some time to respond.
If there is a password for an archive, it should be «appnee.com».
Most of the reserved downloads (including the 32-bit version) can be requested to reupload via email.
Search
Short Notice
About Missing Links
Please feedback any invalid download links you met at AppNee via E-mail, must including post URL and missing file link(s). Then we will try to fix all mentioned links ASAP (that usually takes 7+ days). For now we won't remind you by replying your email as before. Instead, please make a check by yourself then.
INFO
1) To finish AppNee's original mission, we still have 3500+ applications to share. And in AppNee's current running mode, this would take 13 years at least. But it is likely that AppNee will make an evolution in a few years. Then AppNee will slow down a lot or be archived with unscheduled maintenance only.
2) Due to job changes, we cannot reply most emails (and emails with content like copyright complaints, threats, extortion will be automatically filtered out via keywords by our local email client).
3) New 3rd-party free file hostings use plan!
4) To see whether some software has been shared by AppNee, use this template.
WARNING
More and more top-level domain names with word «appnee» are being snapped up by domain speculators. We are dismissive of this and warn these human trash: trying to trick visitors with AppNee's reputation won't work. So please note two points: 1) Now, AppNee merely uses one top-level domain name (appnee.com), all others such as appnee.net, appnee.us are fake; 2) In the future, we will tell everyone our new domain before stopping using appnee.com, via email only. So, please do not ask us questions like «Is appnee.net, appnee.us, or remnantnh.com yours?». The answer is always the same «We have only one site, and it's appnee.com now.»
With IP from countries such as Italy, German and USA increasingly copying and misappropriating AppNee's content and server resources, finally we decided that from October 26 these countries would be forced to conduct behavior detection. And if necessary, we have to block them from accessing all of our websites. This action will take 6 months at least!
Hot Tags
0) Free.AppNee.com is going to be integrated into AppNee some days later. Then Free.AppNee.com will be removed totally.
1) Starting from 2021.02.16, there will be no new software added to appnee.com with a fixed period. This situation can last from a few months to two years.
2) For software that has been released, except for critical software, the update frequency will be reduced to vX.X or vX (e.g.: v1.1 to v1.2, or v1 to v2).
3) Given that people in some countries are embezzling, selling, and abusing the free resources that AppNee releases, it's possible that AppNee will enable its user registration function. As a result, any unregistered user will no longer be able to access any resources published on AppNee.
ТОП-5 виртуальных генераторов звуковых частот для ПК и смартфонов





5.0 Оценок: 4 (Ваша: )
Необходимо выполнить тестирование звукового оборудования, синтезировать частоты или шум? Это может потребоваться для калибровки звука, добавления необычных эффектов при создании мелодии и подкаста, проверки возможностей звуковой карты, настройки музыкальных инструментов и т.д. Для синтеза сигнала вам потребуется программа генератор звуковых частот на ПК или смартфон. В этой статье мы рассмотрим лучшие приложения, которые подходят для разных уровней подготовки.
АудиоМАСТЕР
Простой звуковой редактор с функциями генератора частотных сигналов и шумовых аудиоэффектов, который подходит начинающим пользователям. Он предлагает опции для монтажа и коррекции аудио, звукозаписи и создания атмосферы, применения фильтров и нормализации звучания.
Встроенный генератор позволяет создать звуковую волну с нуля, а также записать ее уже поверх готового трека на компьютере. Софт поддерживает воспроизведение нескольких видов аудиоволн: синусоида, прямоугольник и треугольник. Вы сможете установить громкость и длительность сигнала, метод вставки и значение частоты. Программа поддерживает параметр от 1 до 100 000 ГЦ.
С помощью минимальной или максимальной частоты можно проверить функциональность динамиков. Средние значения позволят получить необычный эффект в музыкальной композиции или подкасте.
Перед применением опции у вас будет возможность прослушать материал и скорректировать данные.
Также АудиоМАСТЕР способен синтезировать шумы. Вы можете наложить или добавить белый, розовый и коричневый шум. Софт позволит настроить громкость и длительность данных.
Преимущества:
генерирует частоту и шум в файл с ПК;
выполняет спектральный анализ;
позволяет наложить звуковые эффекты;
микширует треки и производит аудиомонтаж;
содержит встроенный 10-полосный эквалайзер;
предлагает готовые частотные фильтры;
поддерживает все популярные форматы;
имеет простой русскоязычный интерфейс;
работает на всех версиях Windows.
Генератор звуковых частот скачать бесплатно можно по ссылке ниже. Он не требователен к ресурсам системы и работает на слабых ПК и ноутбуках.
Tone Generator
Удобный генератор звуковых волн низкой частоты с тонкими настройками, скачать который можно бесплатно с веб-страницы разработчика. В отличии от предыдущего редактора, этот – в первую очередь предназначен для любителей радио, калибровки аудио устройств и проверки звуковых карт, то есть использовать его как дополнительный инструмент для обработки аудио не получится.
С его помощью можно синтезировать звуковые частоты, создавать логарифмическую развертку и формы шумовых сигналов. Он формирует синусоидальные, прямоугольные, пилообразные, импульсивные, треугольные и пульсирующие волны. Вы сможете работать с частотой 1 ГЦ — 22 кГЦ, а амплитуда сигнала может составлять 0.5 B.
Меню Tone Generator
Программа Tone Generator предлагает несколько версий: бесплатная с ограниченным функционалом и платные пакеты Lite и Professional. Для сохранения тонов на компьютер, потребуется последняя версия Professional стоимостью 28 долларов. Она позволит выводить данные в формате WAV.
Преимущества:
имеет встроенный тонгенератор, позволяющий создать и воспроизвести до 16 тонов;
предлагает моно и стерео режимы;
поддерживает белый и цветной шумы;
работает на Windows, MacOS, iPhone, iPad, Android, Kindle.
нет регулятора ослабления амплитуды;
нельзя формировать сигнал по заданным параметрам, например, по скважности;
для доступа к полному функционалу требуется платная версия софта;
англоязычный интерфейс.
AudioWave
Двухканальный виртуальный генератор звуковых частот на ПК, который производит синусоидальные и шумовые сигналы. Он прекрасно подходит для проверки подключенных к компьютеру устройств, оценки звуковой карты и настройки всего звукового оборудования.
Приложение создает сигналы различной формы с подходящей частотой и амплитудой. Вам будут доступны следующие формы несущей волны: синусоидальная, пилообразная, треугольная, прямоугольная и т.д. Максимальная длительность данных — 10 минут. Их можно сохранить на ПК в качестве файла PST.
Коррекция материала в AudioWave
AudioWave можно загрузить на пробный период. Затем генератор синуса необходимо приобрести за 49.90€.
Преимущества:
большой частотный диапазон: от 1 ГЦ до 20кГЦ;
предлагает инструменты для автоматического изменения частоты;
сохраняет настройки в качестве предустановок;
редактирует параметры для левого и правого каналов по отдельности;
возможен прямой ввод с клавиатуры.
длительность модулированных сигналов ограничена 60 секундами;
не подходит начинающим пользователям;
отсутствует меню и поддержка на русском языке;
высокая стоимость покупки.
Daqarta
Профессиональное программное обеспечение предназначено для анализа стационарного оборудования и генерации аудиосигналов в режиме реального времени. Осциллограф поддерживает частоту до 256 кГЦ и медленную дискретизацию входного сигнала. Также с его помощью можно оценивать файлы с компьютеры и сохранять отчет об аудиотреке.
Daqarta позволяет моделировать разные формы волн, генерирует белый и цветной шум, работает с левым и правым каналами по-отдельности, управляет амплитудой, поддерживает свип-тон и многое другое.
Вы можете загрузить генератор частоты звука онлайн с официального сайта. Разработчик предлагает 30-дневную бесплатную демо-версию, по истечении которой часть функций будет заблокирована. Например, для автокалибровки потребуется купить платный пакет за 29 долларов.
Преимущества:
предлагает автокалибровку для установки подходящих значений выходного напряжения;
анализирует звуковые волны на входе;
измеряет постоянное напряжение.
нет русского языка;
высокая стоимость покупки;
устаревший дизайн интерфейса.
Частотный генератор звука для Android
Если вам требуется проверить динамики на смартфоне или настроить музыкальный инструмент, воспользуйтесь мобильным приложением на Android. Простой софт частотный генератор звука формирует звуковой сигнал со значением частоты от 1 до 22 тысяч ГЦ. Чтобы изменить форму волны, достаточно настроить параметры на анимированной шкале. Также можно регулировать звук, создавать заметки, слушать аудио в фоновом режиме.
Меню мобильного приложения
Скачать программу генератора качающейся звуковой частоты можно из магазина Play Market. ПО распространяется бесплатно, однако для доступа ко всем опциям и удалению рекламных объявлений потребуется приобрести платный контент. Его стоимость: от 1 до 100 долларов.
Преимущества:
показывает анимированную аудиоволну;
сохраняет параметры в качестве пресета;
простая настройка частоты и громкости сигнала;
приложение можно скачать бесплатно.
отсутствует русский язык;
есть платный контент;
много рекламы.
Заключение
Теперь вы знаете, какое программное обеспечение можно использовать для генерации шума или тонального сигнала с разной частотой. Универсальным решением будет приложение АудиоМАСТЕР. В нем можно не только синтезировать белый шум и нужные частоты, вы также сможете обработать аудиодорожку, миксовать треки, записать голос и настроить эффект затухания звука. Скачайте генератор сигналов звуковой частоты прямо сейчас!
8 Bit Sound Effect Generator
Jsfxr is an online 8 bit sound maker and sfx generator. All you need to make retro sound effects with jsfxr is a web browser. It's a JavaScript port of the original sfxr by DrPetter. You can also use it as a JavaScript library for playing and rendering sfxr sound effects in your games.
8-bit sound effect generator! — Sphero Edu
8—bit sound effect generator!
Make 8-Bit Nintendo Sounds with an 8-Bit Sound Effect .
22/10/2010 · You can completely adjust sounds, or just click the 'random' button and it will make and play a randomly generated sound effect for you. As you can see in the screenshot below, there are a few pre-determined styles of sounds that fit your classic 8—bit gaming needs: Pickup/coin, Laser/shoot, Explosion, Powerup, hit/hurt, Jump, Blip/select, and Random.
8 Bit Sound Effects | Soundsnap
Get 8 bit Sounds from Soundsnap, the Leading Sound Library for Unlimited SFX Downloads.
8bit Royalty-Free Stock Music & Audio — Storyblocks
Audio search results for "8bit". Royalty-Free Music and Sound Effects. Close. "8bit". (229 results found) People also searched for. 8 bit 8 bit music video game game retro chiptune retro game arcade. Sort By.
Freesound — pack: 8-Bit Sound Effects Library by .
14/4/2015 · An 8—bit open sound to be used in old school games. Useful for opening stuff like chests and doors.
Online Sequencer — 8 bit music (#59492)
8/1/2015 · Show/hide waveform Remove. Record keyboard and MIDI inputs. Snap recorded notes to the grid. Play a metronome. When recording, gives a 4 beat lead in. OnlineSequencer.net is an online music sequencer. Make tunes in your browser and share them with friends! Made by Jacob Morgan and George Burdell · Hosting 2,305,406 sequences since 2013 · Buy .
Leshy SFMaker — Online Sound Effect Generator
Leshy SFMaker. is a retro-style sound effect generator. It can be used to quickly generate sounds for games and other applications. (Browser Requirements: Google Chrome or Firefox. Chrome is preferred. Internet Explorer doesn't support WAVE audio and mobile browsers tend not to have good enough audio support.) Introduction Documentation Example .
Bfxr. Make sound effects for your games.
Bfxr is an elaboration of the glorious Sfxr, the program of choice for many people looking to make sound effects for computer games. Bfxr has moved in the direction of increased complexity and range of expression. All the buttons that you know and love are here, but there are some new things as well:
Voice Changer — Online & Free
Voice Changer can make your voice deeper, make your voice sound like a girl/guy, change and distort your voice so it's anonymous, make you voice sound like a robot, darth vader, a monster, and a tonne of other — best of all, Voice Changer is free! Frequently asked questions are at the bottom of the page 🙂 choose an audio input method:
8 Bit Royalty-Free Stock Music & Audio — Storyblocks
Create even more, even faster with Storyblocks. Browse our unlimited library of stock 8 bit audio and start downloading today with a subscription plan.
How to Make 8-Bit Sounds With Audacity | Techwalla
The Audacity sound editing program, available as freeware on Windows, Linux and Mac OSX, has a built-in function that turns high-fidelity 16- and 32-bit sound files into low-fi 8—bit recordings.
Good Software For 8-Bit Music And Sound Effect Creation .
i think all those music trackers will be good for 8 bit music https://en.wikipedia.org/wiki/Music_tracker. 3. level 1. mikaelbauer. · 5y. Famitracker is definitely a good suggestion, though it can be rough to get started with if you're new to trackers.
8 Bit Noise | Sample Focus
Listen to 8 Bit Noise. Royalty-Free sound that is tagged as noise, sound effects, one shot, and granular. Download for FREE + discover 1000's of sounds.
Royalty Free 8-Bit Background Music Downloads | FStudios
11/12/2019 · 8—bit music, also known as chiptune music, is the video game music of the 1990s or earlier. 8 bit music is small in size due to hardware limitations, and sound very simple, pure. This type of music can be heard in games like mario, zelda, contra and more. 8—bit music downloads listed below. Use this background music for videos, youtube, etc.
LabChirp — A Free and versatile sound effects generator .
LabChirp. Sound effect generator. A program for creating sound effects for games, music, videos — whatever you want! A manual and some example sounds are included to get you started. Works on Windows (requires .NET Framework 2.0) and other platforms (Linux, Mac) through Mono.. Features
as3sfxr — SFB Games
Licence. All sounds created using as3sfxr are FREE to use for any purpose, commercial or otherwise, under the CC0 licence. However, if you'd like to, you can donate below! Credits. as3sfxr was ported from sfxr in 2010 by me, Tom Vian. You can reach me at [email protected] @SFBTom, and find my games at SFB Games.
How to Make a Voice Sound Like an 8 Bit Video Game — YouTube
How to Make a Voice Sound Like an 8 Bit Video Game — YouTube.
Freesound — "8-Bit Bounce" by SomeGuy22
8—Bit Bounce — mp3 version 8—Bit Bounce — ogg version 8—Bit Bounce — waveform 8—Bit Bounce — spectrogram 210.068. play / pause stop change display loop toggle measure. -00:00:210. SomeGuy22. October 1st, 2016. A digital, old-school gaming style bounce, generated with a Sine wave. nes.
Voice Generator (Online & Free) ️
For example, you can make the voice sound more robotic, or like a giant ogre, or an evil demon. You can even use it to reverse the generated audio, randomly distort the speed of the voice throughout the audio, add a scary ghost effect, or add an "anonymous hacker" effect to it.
Step 8Bit Sound Effects
Royalty Free Step 8Bit Sounds .
Sfx — Retro 8—Bit Video Game Footstep Sound 3 . 0:01. Sfx — Retro 8—Bit Video Game Footstep Sound 2 . 0:01. Sfx — Retro 8—Bit Video Game Footstep Sound 1 . 0:01. 8—Bit Fx Platform Walk 5 . 0:02. 8—Bit Fx Platform Walk 1 . 0:04. Bit Steps .
8-Bit Music Maker — Remixes
8—Bit Music Maker remix: Can-Can by Billy_el. In the hall of the mountain king by Billy_el. 8—Bit Music Maker remix: Still Alive by Billy_el. 8—Bit Music Maker remix by 17TCummi. 8—Bit Music Maker remix by crossyfanatic. 8—Bit Music Maker remix by thenoobtube. 8—bit by lysa1010.
Top free game assets tagged sound-effects — itch.io
Dillon Becker. 8—bit / 16-bit Sound Effects (x25) Pack. A collection of 25 8—bit/16-bit sound effects, free for commercial and non-commercial use. JDWasabi. GIF. Interface SFX Pack 1 (CC0) Collections of interface/UI sounds to use in media. ObsydianX.
FREE 8/16-bit sound effect generator : chiptunes
47 votes, 10 comments. 36.3k members in the chiptunes community. A community dedicated to music that gets the most out of the least. Music in the …
DrPetter's homepage — sfxr
14/9/2012 · Basic usage involves hitting the randomize button (or one of the other buttons to your left if you need a specific standard sound), listen to the generated sound, then deciding if it sounds ok or not. If it does, then export it to .WAV and you're done, if not — …
ChipTone by SFBGames
3/1/2021 · ChipTone is a free tool for generating sound effects, mainly for games but they could be used for anything you like. I'm currently working to flesh out the sampler and the sequencer. This tool was originally made in Flash, but, uh, yeah, that didn't work out. So now it's in HTML5 instead!
LabChirp by Labbed
LabChirp is a powerful and versatile sound effect generator, useful for games, music, videos — anything you like! A manual and some example sounds are included to get you started. Works on Windows (requires .NET Framework 2.0) and other platforms (Linux, Mac) through Mono. Main features: Multiple channels: Up to eight individual channels.
8-bit Sound Effects by SidneySounds | AudioJungle
16/12/2020 · 8—bit Sound Effects (Core Pack) – A grand total of 21 classic arcade game sound effects specially created for retro 8—bit video games. The package contains the following sounds with all files clearly labelled as so: Formats included – WAV as well as a high-quality MP3 for quick and easy use over the web and portable devices.